Electrical Services
Our Electricians are experienced, professional and trained to the highest standard. If you have unavoidable repairs or home improvements, contact Rural Air Con and Electrical to save your electrical troubles.
Lighting
Need to replace or upgrade your existing lighting? Whether you're unsure which lights will look best and save you money, or you've already found the perfect lights, but don't want to risk fitting them yourself, we are ready to rescue you from your lighting worries!
We give you professional advice, guaranteed workmanship and our electrical experts will we make recommendations and give advice to suit your plans, budget, and save you money on your next energy bill.
Smoke Alarms
Smoke alarms save lives, so keep you and your family safe. Our Gympie and Noosa based electricians install smoke alarms in a flash and can provide expert advice about smoke alarm safety, so call us today on 0407 079 159
Ceiling Fans
Just bought a ceiling fan and need someone to install it? We've got the most reliable electricians in Gympie and Noosa to do the job.
Our electricians are able to install a huge range of ceiling fans including both standard and designer models, fan light combos, remote controlled and other varieties of ceiling fan.
Power Points
Looking for a reliable electrician to take care of your power points or electrical sockets? Then look no further! We are the trusted choice and our experienced and licensed tradesmen have got you covered whether you need a power point repairs, a power point moved or you need some more power-points installed in your home, we're ready to rescue you today!
Wiring and Re-wiring
Electrical wiring is the most important part of your home electrics. It's what keeps electricity flowing to your appliances, power points, lighting and fans. However, it takes years of experience and countless hours of study to master, because like any electrical work, electrical wiring is can be extremely dangerous. All our electricians have all of the qualifications and electrical experience needed to tackle any wiring problem, big or small.
All of our electricians are professional specialists in wiring of all kinds, whether it be appliance wiring, electrical wiring connection or electrical service wiring.
Fault Finding
So your power trips or your lights go out and you don't why? Don't worry! Electrical fault finding and fixing is a job for an experienced and licensed electrician. That's where we come in.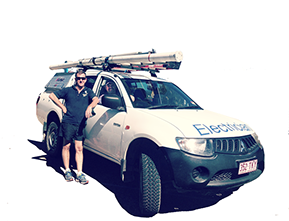 NO JOB TO BIG OR SMALL
We're the locals choice of electrician throughout the Gympie and Sunshine Coast regions. Our aim is to deliver to our customers the highest level of quality electrical services at fair and market competitive prices. Call Jason Bromilow 0407079159